In 2012, I started my YouTube channel which promotes Nigerian food and how to manipulate food in what ever lifestyle trend you choose.  My knowledge on kitchen started about the 3rd quarter of 2010. This was the period when my family launched their restaurant called Anedo Restaurant and Bar, in Deptford, London. This closed down in 2013 unfortunately. 
I was asked initially by the PR Executive 2019 regime (we are acquaintance from college days) to take on this class if I have the capacity.  This was a new and exciting challenge for my food teaching career. I am familiar with food tutorial from my uploads on social media but I had never hosted a live class with real people before. 
This was a sold out class of 12 with 10 in attendance. The food selected to be taught were; Egusi Soup, Moi-moi, Abacha and Yam pottage. These dishes were selected on the basis that they are eaten by most Igbo tribe, associated to most regions in Nigeria found in most Nigerian restaurant, and events.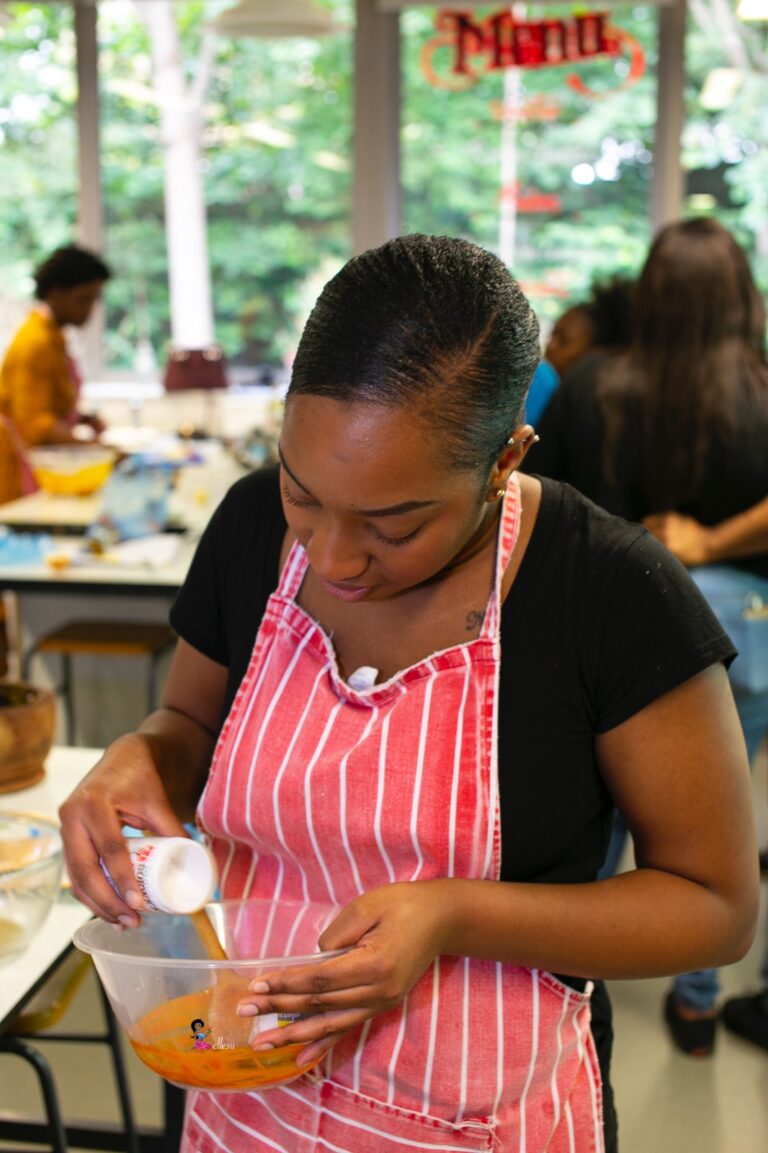 I started off being a little bit nervous as public presentation or speech scares the life out of me (let us  blame it on me being an introvert). As this was my first class ever, it took me a little time to warm my nerves and get familiar with the ladies and gent. The attendees were understanding, enthusiastic and eager to learn. The energy in the room was superb which made the process worthwhile. The class was a hands-on approach and very interactive which helped learning and teach flow so easily.  You could not place who the teacher was and the student.
Time was a constraint, this meant that we had little time to prepare the selected dish. The first dish  taught was moi-moi, made using oven methods. The use of steam-baking made this process a smart approach to cooking so that we had more pans and burners available. This was a new style and method of making this dish.  In a nut shell, the cooking style is submerging the bowl/container filled with the moi-moi batter in hot water bath and cooked in the oven. Therefore ensuring that there was enough pots to carry on with the class for the other dishes and not worried about our food the food getting burnt. 
We also learnt how to make Egusi soup, the method I shared was the frying process. This option was unpopular and not all knew about this method. At Ellesu, we believe that there are various solution to an answer and what ever method you use to get to the solution, as long as your working are accurate and logical, the outcome should be good.  Food cooking is a science of it's own and once you understand this, I believe you can attain any dish you set your self to make. 
Yam pottage/porridge is one of the many dishes eaten by the Igbo. We can have this with oil, without oil or with vegetables, the addition or subtracting of oil gives it a different name.  For example, yam with vegetable is called Ji Akukwo Nni, with out oil will either be Ji Mmiri Oku or Ji ha siri na mmiri (lol).  
The final dish we made was Abacha  (African salad) This is native to Enugu as they are known for  Ncha food and Ngwuogwuo. Which translates to mixed out of fire. This was the least stressful dish to make and fairly simple. This can be paired with as much addons as you please. 
 ICSN Igbo cooking school was in two session, the second class took place during winter, same location on 30 November 2019. Follow this link… to see our post for ICSN Cooking School for November 2019