Session two(2) of ICSN Igbo cooking school was themed around the winter and festive period. The selected dish was to enrich students with the culture as well as an easy fix yet preserving tradition, heritage, culture and most importantly taste. Home is said to be where the heart is, and as an Igbo child (Nwa ana), we are always drawn back to the food, step and taste we grew up with as a child. The beauty in this is the preservation of this culture, food and heritage by introducing these practices to our offspring who are the future of Igbo tribe.  
The highlight of the day, I will say was the native rice. We took so much time in making this dish and the outcome was fantastic. I had a proud teacher student moment as all dish made were unique to each student and taste varies based on palette. The shade of each student dish was similar, the comprehension of the process was highly scaled.
Cooking is an expression, depending on how your mood/thoughts/feeling are at the time of cooking will reflect on the final product – Dish. Moast people exclaim they do not like to good, to be a better cook, i believe it starts with a chnage of ones mindset. To get to perfection, you have to practise, pratice to be consistent at getting the same or better result over time.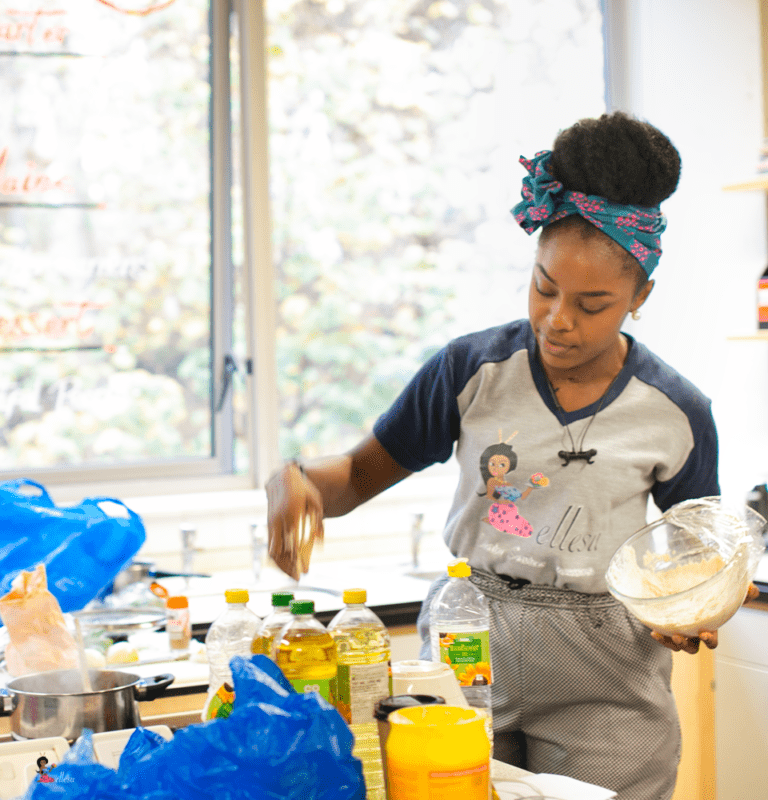 Bitter-leaf, native to Anambra state of the Igbo tribe in Nigeria was the soup taught on the 30th. The use of palm-oil method was the chosen style to prepare this dish. Palm extract/juice is the the other method of cooking. I love the richness of this dish as well as the intensity of flavour.  This is triggered by the use of Ogiri Igbo is a prominent ingredients for this dish. Ogiri-Igbo is fermented oil bean. I have been opportune to see how the spice/flavour has been grown and processed for use. 
A Short snip of what we got up to.
I remember my first take at making puff-puff, it was an epic fail. Puff-puff is a deep fried sweetened leaven dough, which can be accompanied with a main meal, as a starter, snack or dessert (best of all worlds). This was the last dish we made on that day. Puff-puff is a technical dish and it requires constant practise to get perfection. This dish was rushed and I hope it gets revisited in a later session by ICSN.
Ji mmirioku is one of our favourite recipe as it reminds us of new life. This dish is popular during fresh harvest and eaten by pregnant women and new mothers.  I love the soft texture of yam when immersed in spiced brine and sometimes cooked with your choice of protein. Fresh fish in our case.
Interested in one of the classes, you can register with ICSN for their masterclass or follow this link to see the various classes and courses we offer.